Friday the 24th March marked the beginning of our weekly walk, cycle, scoot or carpool to school day! We started off the day with some music and welcomed everyone with a cheer. With the sun shining and big smiles from children and adults alike, it was a fantastic start to the day.
Karen Moore, our travel officer, joined us shortly after to begin our scooter safety workshops. The children loved scooting around the yard through obstacle courses, racing each other and learning how to do an emergency stop!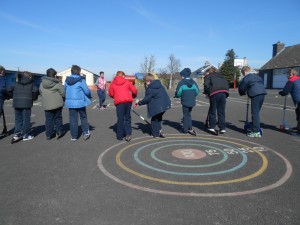 After lunch, we had a short assembly to announce which class had won the competition. Well done to first and second class who had the highest percentage of children that traveled to school an environmentally friendly way! It was a tight competition and the other classes were very close behind!
A huge thank you to all of you who made this day a success! All pupils and staff were delighted with the amount of families that participated. A special thank you to those brought in and shared their scooters with others for the day – the workshops couldn't have gone ahead without you!
We look forward to your continued support with Feet First Friday! If you would like more information on Green Schools, please see the Green Flag section on this site or go to https://greenschoolsireland.org/