Term 3
As we begin our final term of the school year, we would like to take the opportunity to wish Ms. Carter well as she begins her maternity leave. We are also delighted to welcome Mrs. Forde back following her maternity leave.
Catholic Ethos
We would like to wish all our 2nd class pupils and their families a wonderful day as they celebrate the sacraments of First Penance and First Communion tomorrow. The children and very excited for their special day and thank you to their teachers, Ms. Carter and Ms. Crosby for all their work in preparing the children for this important sacrament. A post Communion celebration will take place in school on Monday for the children.
The Ceremony of Light for the Confirmation candidates will take place on Monday 16th May, with Confirmation on Friday 20th May at 11am.
Parents' Council
The Parent's Council are delighted to announce the return of the Bog Run/Walk which will take place on Saturday, 18th June. This is always a very enjoyable event for all the family!.
Sponsorship cards will be sent home to each family on Monday and we would greatly appreciate your help and support.
Please contact the school or any member of the Parents' Council if you would be available to help out on the day or on the lead up to the event.
Clothes Collection
Last day for dropping off bags for the clothes collection is Monday 9th May. Please spread the word to neighbours and friends!
Active Schools
Congratulations to our u13's Football team who took part in the Cumann na mBunscol Blitz last week. The children were fantastic ambassadors for the school and a credit to their clubs with the fantastic skill that was on display. We won two out of three of our matches and had a very enjoyable day out.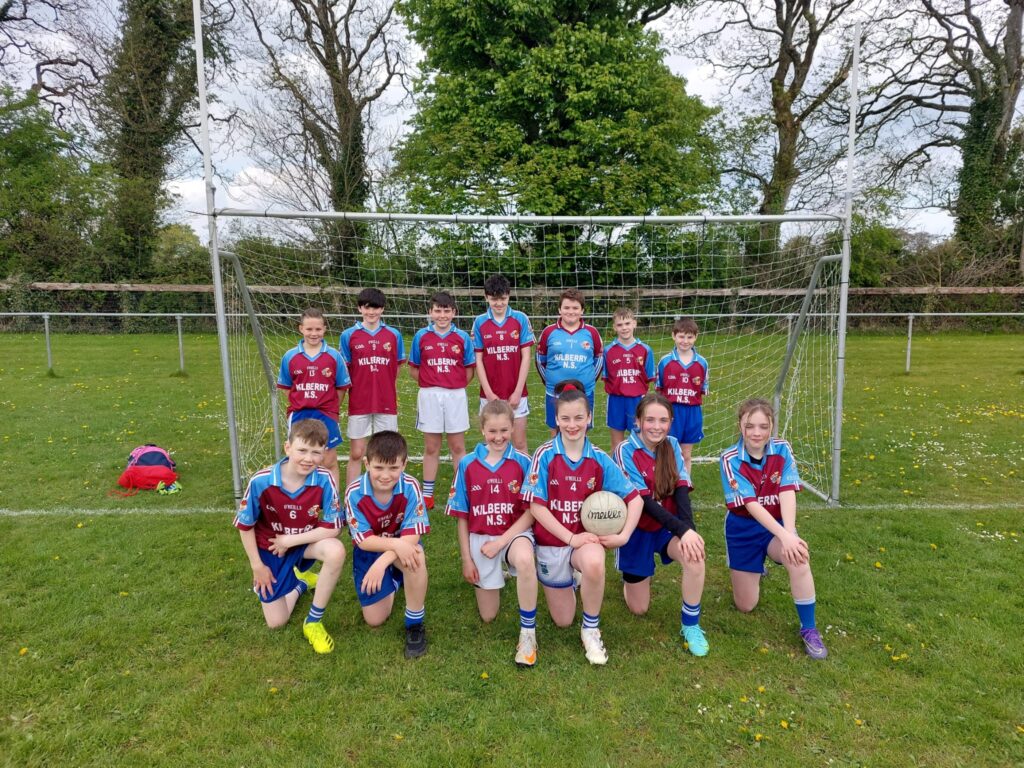 Gymnastics continues every Tuesday for the month of May and Declan O'Toole from Kildare GAA will also be starting a GAA skills programme with all classes next week.
Thanks to Tadhg who facilitated tag rugby lessons with the senior classes before Easter.
All classes are also completing the Daily Mile Challenge in school so we are keeping very fit and active!
Green Schools
Congratulations to all our pupils, and in particular our 5th and 6th class Green Schools Committee and Ms. Carter for all their hard work in helping us to achieve our Biodiversity Flag. The feedback from the accreditor was superb and the children have worked so hard. We are delighted to hear that we were successful in our application. This will be our 5th Green Flag!
A special mention also to Cecilia for her hard work behind the scenes.
Creative Schools
Easter Bonnet Competition
"Colourful, creative and impressive"are only some of the words that could be used to describe the amazing Easter Bonnets that were on display on Friday 9th April during our Easter Parade. The children were challenged to create an Easter themed bonnet and use their creative skills to design a bonnet that would stand out from the crowd!
We saw some incredibly bright, imaginative and unique creations!
Overall, the staff of Kilberry were blown away with the creativity shown and had the unenviable task of picking just 2 overall winners from each class. All participants received an Easter Egg, with the overall winners getting an extra Arts & Crafts prize.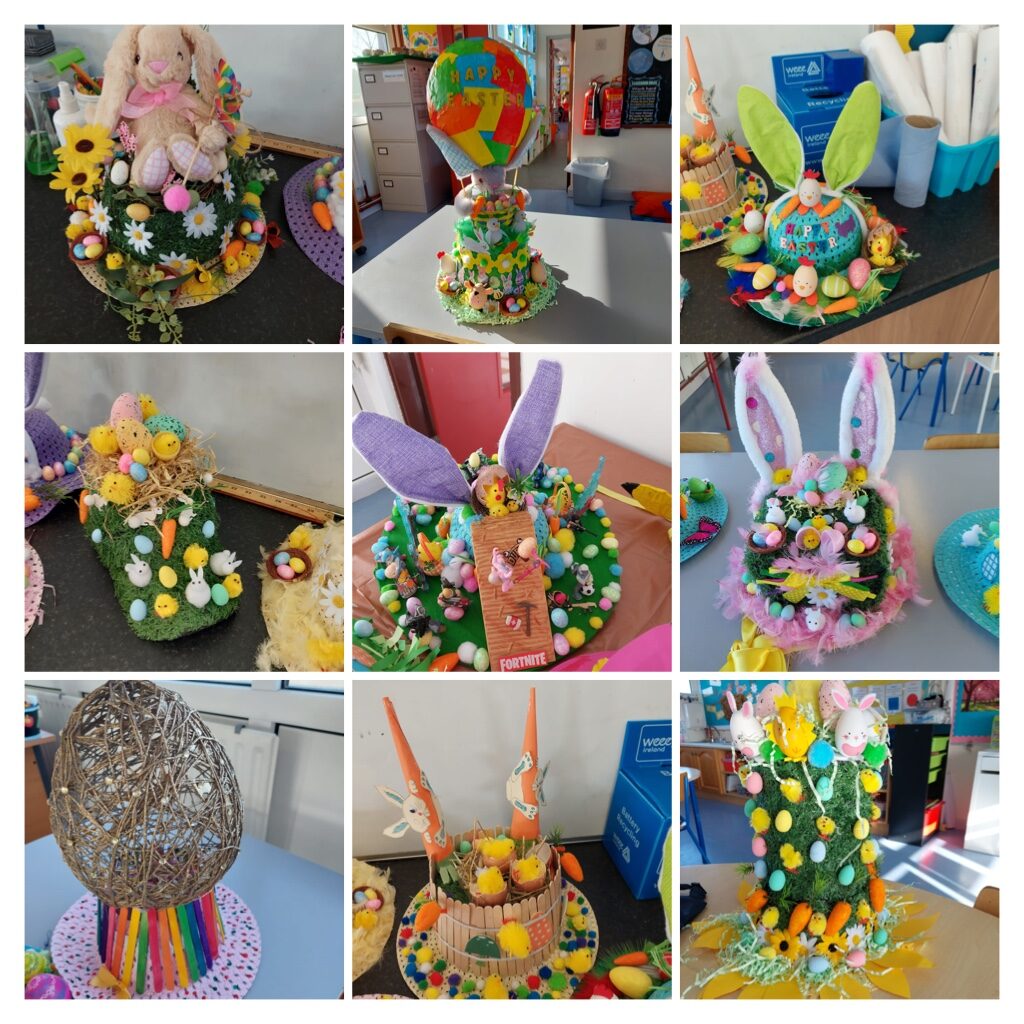 Drummingabout:blankGalleryDrag images, upload new ones or select files from your library.UploadMedia Library
Our pupils are enjoying 'Jabba Jabba Jembe' percussion workshops lead by David Day.
The children are enjoying the hands-on-learning experience of playing a range of drums and percussion instruments. Thanks to David for facilitating these fun and energetic music lessons.
Creative Week
It is Creative Week next week in Kilberry NS where we will celebrate all things creative.
The children will enjoy Drumming, Art and Drama workshops and the senior classes will continue with their Ukulele lessons with Shane Sullivan.
A big thank you to Mrs. McLernon for co-ordinating and organising all our Creative Activities.
School Tours
Details of the school tours will issue soon to each family and payment can be made online or through the office. The tours are heavily subsidised by DEIS funding in an effort to keep costs as low as possible. We would encourage all families to start the payment process as soon as possible. Thank you to Mrs. Prendergast and Linda for helping to organise and co-ordinate all of these wonderful tours.
Upcoming Events:
Communion: Friday 6th May 11am
Ceremony of Light: Monday 16th May. 7.30pm
Confirmation: Friday 20th May 11am
Junior Infants-2nd Class School tour: Thursday 26th May
Bog Run: Saturday, 18th June 11am
Active Week: 20th-24th June and Senior Tours
6th Class Graduation: Thursday, 29th June