Welcome Back!
Another school year is in full swing and we are looking forward to a more settled school year ahead filled with learning and exciting projects. While we have all endured a difficult two years of lockdowns and interrupted schooling, we hope that this year will be one free from the uncertainty of school closures.
To this end, we ask that all parents and guardians continue to be vigilant for symptoms of Covid-19 and if in any doubt to please err on the side of caution. The HSE's Test and Trace system has been discontinued for primary schools but our school's Covid-19 Response Plan remains in operation. We will continue to be guided in the implementation of this plan by the Department of Education.
A Word of Welcome
We give a particular mention to our new junior infants who have settled into school like little superstars under the guidance of Mrs. Prendergast. We welcome Zoe, Kacie, Chloe, Ella, Layla, Tom, Tommy, Ciarán, Dean, Fionn and Oscar. We also give a special mention to our new pupils, Emma Grace, Phoebe, Logan, Bella and Jorgia-Grace who have joined the school this year. We hope that they will enjoy their time with us and we look forward to seeing them grow and develop over the next few years.
We also extend warm congratulations to Mrs. Forde on the birth of her baby boy last June and we welcome Ms. Crosby to the staff.
First Communion
We are looking forward to celebrating the postponed First Penance and First Communion with our third class pupils on Friday 8th October. Thank you to Ms. Carter for all her work in preparing the pupils for these special sacraments.
Child Safeguarding
We are committed to ensuring the safety and welfare of all children in our care. Our Child Safeguarding Statement is on display in the front entrance hall. The designated Liaison Person is Ms. Browne and the Deputy Designated Liaison Person is Mrs. Prendergast. We operate a policy of kindness and respect for others which is incorporated into our S.P.H.E. lessons. Our school motto is 'Kind Hands, Kind Feet, Kind Words' and all children are reminded of these simple words to help promote positive behaviour in the classroom and on the playground.
Parents Council
The AGM of the Parent's Council will take place tonight, Monday, 4th October at 7pm via zoom. All parents are welcome and encouraged to attend. The Parent's Council play a vital role in our school development and we would like to thank all members for their continued support.
Book Bills
Many thanks to all who paid their book bills so promptly, your co-operation is greatly appreciated. Please note we are also happy to accept payment in instalments either through the office or online.
All remaining book bills must be cleared as soon as possible, as the school is not in a financial position to carry this debt.
Health &Safety
Please request a medical form (via the office/homework journal/folder) if there is any change in your child's health condition or any other circumstances that teachers need to be made aware of. Parents/guardians are also asked to ensure that contact numbers are kept up to date on Aladdin Connect. School communications will issue via Aladdin Connect and parents are also advised to download the app in order to receive messages and letters.
School Lunches
School lunches are provided by Bradbury's and pupils from 1st class up can also avail of hot school lunches for the first time this year. Infant classes will partake in the hot lunch scheme later in the year. Bradbury's have provided each pupil with log in details to order their lunch online and have also provided a helpline number for parents to ring if they have any queries. This information was been sent home with your child early in September.
School Uniform
We must commend the children on wearing their beautiful uniform, of which we are very proud.  The school tracksuit should only be worn only on P.E. days please. Junior and Senior Infants wear tracksuit daily.
P.E. Tracksuit Days
1st/2nd Class Mondays and Thursdays
3rd/4th Class Wednesdays and Thursdays
5th and 6th Class Wednesdays and Fridays
Active Schools
We were delighted to be joined by David Hyland, Kildare G.A.A. who raised our second Active Flag on Friday 27th September. We are very proud to have our new flag flying outside the school.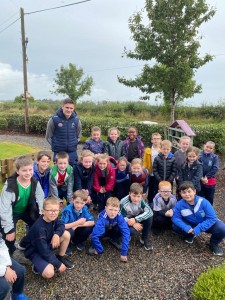 Swimming for 3rd-6th has been ongoing for the last 3 weeks. The children are making fantastic progress and it is wonderful to be back in the pool again for the first time since 2019!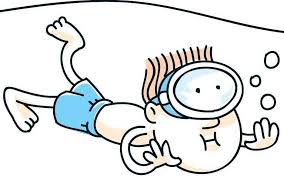 Music Generation
3rd- 6th class have started Ukulele lessons with Shane Sullivan from Music Generation, Kildare. This is a wonderful opportunity for the children to learn to play an instrument in school and we look forward to seeing and hearing the progress they make throughout the year.
Creative Schools
We are delighted that a recent application to be part of the Creative Schools initiative has been accepted. Creative Schools are schools that wish to undertake self-evaluation in the area of the Arts (Music, Drama and Visual Arts). Our school will work with a Creative advisor to help us on this journey. A big thank you to Mrs. McLernon who will co-ordinate this project and we look forward to participating in this wonderful programme over the next two years.
Languages Connect
Our school has also been selected for a new language pilot initiative. Senior pupils will take part in a six week, school-based programme to introduce pupils to a foreign language. This new initiative will provide pupils with opportunities to expand their experience with languages and give them confidence in engaging with new languages. Our school will begin lessons during term 2.
Upcoming Events:
 First Penance and First Communion: Friday 8th October 11am
 Hallowe'en Dress Up-Friday 22nd October
 Mid-term Break-School closes Friday 22nd October and re-opens Monday 1st November
Inservice: The school will close at 12pm on Monday 1st November to facilitate staff training in New Primary Language Curriculum.