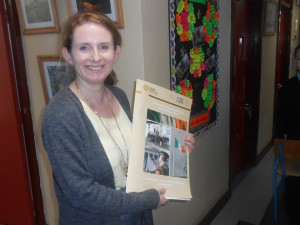 The school community gathered together today to commemorate the events of 1916, to celebrate the present and to imagine the future.
The 1916 Proclamation was read by children from the Senior Classes. We then read our 'Proclamation for a new generation' in which the children themselves examined how they would like to see Ireland change and evolve over the next 100 years.
In our 'new' Proclamation, the children called for an end to homelessness, crime and war. They envision an Ireland where everybody, young and old can always feel happy and safe and where everyone is treated respectfully and equally, regardless of our differences, and where the role of technology does not overshadow family time and time for others.
The entire school gathered outside where our wonderful secretary, Patty, accompanied by her grandchildren, current pupils, Ella and Luke, raised the flag. 5th and 6th class played Amhrán na bhFiann on tin whistle as we all sang along to our National Anthem.
To conclude the ceremony, 6th Class pupil Ciarán Dunne read a poem he had written especially to commemorate the 1916 Rising.