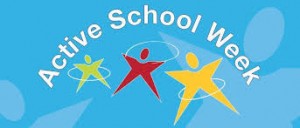 We have an action packed week planned for our Active Week which will begin on Monday, 22nd June.
Activities will include;
Monday:
Football/hurling workshops with Declan O'Toole, Kildare G.A.A. Development Officer, Basketball Semi-Finals.
Tuesday:
Bouncy Castle Fun Day, and a visit from the ice-cream van!
Free Throw Competitions for Fourth/Fifth/sixth classes
Wednesday:
1st/2nd/3rd Class Tour to Nore Valley Park. Activities include Go-Karting,3D Maze,trailer rides and active play area.
Novelty Sports Day for Senior classes.
Playgound games and activities for Junior/Senior Infants including obstacle course and parachute games.
Thursday:
Junior/Senior Infant tour to Stonebrook Farm. Activities include a wonderful guided animal tour and fantastic play area for the children to explore.
Senior tour to Baysports, Athlone. The children will enjoy a fun-filled and action packed day with a Chinese Dragon boat paddle challenge to Pinnacle Rock, Archery, Kayaking and Currach Rowing, Pier Jumping, Inflatable Waterpark and Bushcraft Survival Skills.
1st/2nd and 3rd Class Novelty Sports Day.
Friday:
Presentation of Swimming Certificates for 2nd-6th classes.
Sports Day for Junior and Senior Infants
Rounders Final 1pm
Basketball Final 1.30pm approx
Presentation of medals in the hall afterwards. Parents are welcome to attend the games from 1pm onwards.
We hope that Active Week will be a successful and enjoyable week for all the children..And a peaceful one for the parents as hopefully the children will be nicely tired out by bedtime!!