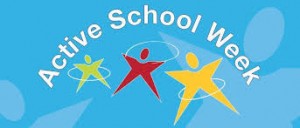 We have an action packed week planned for our Active Week which will begin on Tuesday, 7th June.
Activities will include;
Tuesday:
Football workshops with Stephen Lawlor for Junior/Senior Infants and 5th and 6th Class.
5th/6th Class-Free Throw Competition
1st-4th Class are on tour to the Let's Go camps in Kilcullen. Activities include:
High Energy Assault Course
KMX Karts • Disco Dome
Zorbee Ball Roll
Radio Flyer Cyclones
Super Slide : Spider Climbing Tower & Slide
Under Pressure Wrecking Ball
Wobbly Ladder : Human Table Football
iPad Fun Orienteering
Chinese & Crab Soccer • Speed Stacking • Unihoc
Lacrosse • Puzzling Moves • Fling Sock Games
Olympic Handball • Maze n Moves
Wednesday:
Junior tour to Imaginosity. The children will be allowed to explore and play in Ireland's largest creative play area!

Novelty Sports day for 1st-6th Classes
Rounders/Basketball League games
Free Throw Competition 4th Class
Thursday:
Bouncy Castle Fun Day, and a visit from the ice-cream van!
Volleyball workshops for all classes with Tom Landers from the Newbridge Volleyball Club.
Friday:
High Intensity Circuit activities for all classes with Emma Butler
Rounders/Basketball League Games
Playground games and activities for Junior/Senior Infants including obstacle course and parachute games.
Saturday:
This year our Active Week includes our Adult and Children 5k and 10k fun run! Enter online and please come out, Be Active and Support our School.
Friday 24th June:
Presentation of Swimming Certificates for 2nd-6th classes.
Sports Day for Junior and Senior Infants
Rounders Final 1pm
Basketball Final 1.30pm approx
Presentation of medals in the hall afterwards. Parents are welcome to attend the games from 1pm onwards.
We hope that Active Week will be a successful and enjoyable week for all the children..And a peaceful one for the parents as hopefully the children will be nicely tired out by bedtime!!